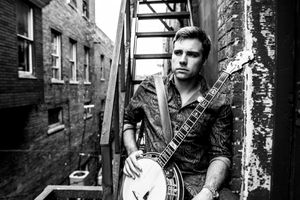 About
"They say nothing makes you a better banjo player than a North Carolina birth certificate."
This could not be truer for Raleigh, North Carolina born Gregg Welty. After moving to Western New York at a young age, he grew up listening to the sounds of his father's banjo playing, Eric Welty, the 1993 National Bluegrass Banjo Champion. In true like-father-like-son fashion, Gregg quickly became well-known within the local Western New York, Pennsylvania, and Ohio bluegrass scenes. He eventually began competing in national bluegrass banjo contests. Gregg holds more distinct state banjo championship titles than any other banjo player.
Gregg held the banjo-position for Gold Heart and Big Leg Emma in 2013/2014, played banjo full-time for The Allegheny Drifters for the 2014-2015 season, and spent the latter half of 2017 touring with Blue Mafia. Gregg continues to travel and tour professionally- working as a fill-in for numerous professional bands, as well as owning and managing the band, South 79 (www.south79bluegrass.com). He appears on numerous recordings as a guest artist, and records and produces recordings out of his Pittsburgh, PA based recording studio.